Why Should My Child Study Music?
By

Steve Harrow

on August 30, 2012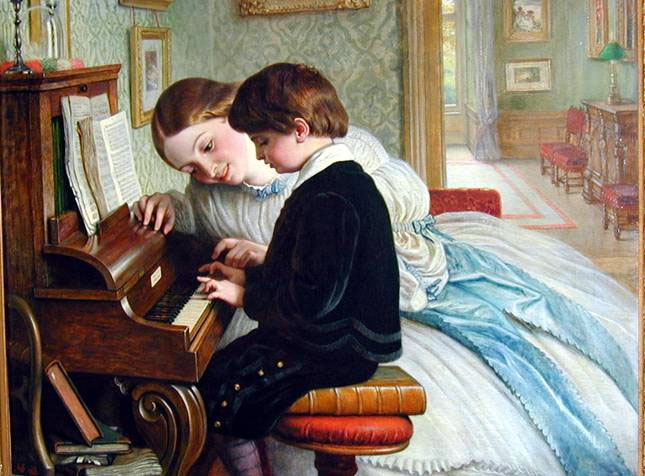 Music lessons??  We know what you're thinking, because we thought the 
same thing. Why pay hundreds of dollars for music lessons just to hear 
our kids bang out a few notes on the piano and then complain miserably  
about practicing? Why pour so much time, money and effort into 
something so impractical? Our kids can survive without knowing how to 
play the piano, but they need to read, write, and do math.  So why
should our kids take music lessons?
 We have four kids, ages eleven to nineteen.  All of them have 
(somewhat reluctantly) studied the piano since they were six or seven; 
all of them added another instrument by age ten. Yes, that is a lot of 
money poured into lessons, and a lot of energy spent coercing them to 
practice. (None of them were little Mozarts— no long, blissful hours 
spent at the piano composing symphonies at our house.  Kicking and 
screaming is more like it.)  In spite of these gritty realities, we are 
absolutely convinced that music is an essential part of our children's 
educations-  no activity or study more completely engages and enriches 
their souls, minds, and emotions than the art of music.
Music Engages the Soul in Worship and Praise
The author of wonderfully imaginative fairy tales, Hans Christian 
Andersen wrote, "Where words fail, music speaks."  In Scripture (and 
the history of the church), music is used to glorify God because it 
possesses a depth of meaning that reaches far beyond mere words. The 
Psalms speak of praising and thanking God through music. In Psalm 
100, we are commanded to sing to the Lord, to "Come before his 
presence with singing."  Moses sang a song of victory to celebrate 
deliverance from Egypt (echoed by the saints in Revelation.)  Jesus and 
His disciples concluded the Last Supper by singing a hymn.  Music is a 
gift of God that gives voice to prayer and praise, enriches His image in 
us, and reflects His creative glory.  The greatest musician of all, J.S. 
Bach, believed that "The aim and final end of all music should be none 
other than the Glory of God and the refreshment of the spirit."
Music Engages and Enriches the Mind
With the click of a mouse, you can find numerous books and articles on 
the mental benefits of music. One study by the University of California 
concluded that children who studied piano and sang daily in chorus were 
significantly better at solving puzzles than their non-musical peers. They 
also scored 80% higher on spatial intelligence tests. (http://
ezinearticles.com/?Music-And-The-Brain&id=100806).  The mental 
focus and discipline required by practicing music develops the brain 
(and good study habits) for any challenging application.
Music Develops an Appreciation for Beauty 
Music reflects the beauty of God, whether it's the New York 
Philharmonic playing Beethoven's 9th or your child playing 
Prancing Ponies. (Remember that first piano recital?)  As your child 
studies music, he will learn not only technique (how to read notes 
and rhythms), but also interpretation (how to express emotion and 
meaning- beauty- through those markings on the page).  We're 
always a bit surprised when our 'energetic' eleven year old son, with 
his propensity for contact sports and airsoft guns, sits down at the 
piano or picks up his trumpet and creates beauty by sensitively 
interpreting a sonatina or etude.  He is engaging the whole person:  
he disciplines his body and focuses his mind in order to express his 
heart and create beauty-  all of which feeds the spirit and reflects the 
creative image of the ultimate Creator.
Music lessons are a gift we can give our kids, to develop their bodies, 
hearts, minds, and spirits to the glory of God.  Beethoven wrote, 
"Music is a higher revelation than all wisdom and philosophy. Music 
is the...soil in which the spirit lives, thinks and invents." Martin 
Luther adds, "Next to the Word of God, the noble art of music is the 
greatest treasure in the world".   Our privilege (and duty) is to share 
these treasures with our children.